Complete Story

Jim Dougherty - 2009
Hilliard Davidson High School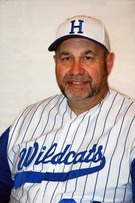 Coach Dougherty has been Hilliard Davidson's head coach for 27 years. His teams have compiled 7 OCC Championships, 13 Sectional Championships, 7 District Championships and finished three times as Regional Runner-Ups. Jim was selected by his peers as OCC Coach of the Year 7 times, Central District Coach of the Year twice, All Ohio Series Coach in 1998 and United States Olympic Festival Coach in 1993.
He served as the President of the Ohio High School Baseball Coaches Association in 1995, has been fortunate to coach many fine playes both in the scholastic ranks and summer amateur play. Many players have gone on to play college and professional baseball as well as become involved with coaching baseball and being productive members in their communities. He also would like to thank the many fine assistant coaches he has been blessed with in his time coaching in Hilliard.
Jim is a graduate of Ohio Wesleyan University, did graduate work at Miami University and the United States Sports Academy, was a 1978 Graduate Assistant Coach at Miami University and was an Assistant Coach at The Ohio State University from 1981 through 1982.
Jim teaches Health, Physical Education and is the Athletic Coordinator at Hilliard Weaver Middle School. He is married to Carolyn Haddad Dougherty, who also is a teacher for Hilliard City Schools, and has two sons attending The Ohio State University. Josh 23 is a graduate of Ohio Wesleyan University and a First Year Law Student. Jacob 20 is a sophomore studying History.