Complete Story

Tom Randall - 2009
Kenton Ridge High School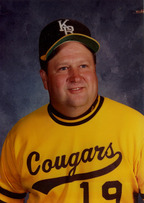 Tom Randall is a 1968 graduate of Columbus West High School. He graduated from Morehead State University with a B.A. in Physical Education and obtained his master's Degree from Xavier University in 1976.
Tom's teaching and coaching career began at Northeastern High School in Clark County. He served as an assistant baseball coach and football coach for four years. Tom then moved to Kenton Ridge High School (Clark County) where he served as an assistant football coach for ten years and varsity baseball coach for twenty-nine years.
In twenty-nine years of high school baseball, Kenton Ridge compiled a 524-229 record, ten Central Buckeye Conference Championships, nine Sectional Championships, five District championships, three Regional runner-ups and two regional championships. Kenton Ridge played in the Final Four in 1989 and was Division II State Runner-up in 2007. Tom was selected Clark County All Area Coach seven times, Miami Valley Coach of the year four times. Kenton Ridge was Miami Valley Computer Poll Champions in 1995 and 1999 and was named Division II State Poll Champions in 1992. Tom had the pleasure of coaching in the All-Ohio Mizuno Series in 1994. Tom was selected to the Miami Valley Coaches Hall of Fame in 1998 and Clark County Hall of Fame in 2004.
In twenty-nine years of coaching, forty-five players went on to play college baseball. Eleven of these players were Division I athletes and four players, Dave Burba, Rick White, Greg Beals, Dustin Hermanson were drafted into professional baseball.
Tom attributes all of the success of the Kenton Ridge program to his players and his loyal assistant coaches who gave their time and unselfish dedication to the program and the game of baseball.
Tom and his wife have been married for thirty-six years. They are the proud parents of two sons, Todd and Tim, both graduates from Ohio University