Complete Story

Marcus "Mark" Stewart - 1974
Beavercreek High School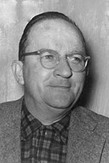 Marcus Stewart's coaching career spans a gap of 34 years, all at Beavercreek, and since becoming a head coach in 1946, has experienced only one losing season. Among his many championship teams, he has captured the highly coveted State Championship by winning back-to-back championships in 1952 and 1953. He was also an assistant coach in 1941 when the only other Beavercreek athletic team won a state title.

Mark is a Beavercreek native born in Zimmerman in 1911. He attended Beavercreek Schools all twelve years and participated in football, basketball and baseball. His junior and senior years, he was selected to the All-County basketball team.

Upon graduation, he enrolled at Muskingum College. He lettered in football and baseball and graduated in 1934. He started his teaching and coaching career at Beavercreek where he remained over the years. He did, however, serve in the Finance Dept. of the U.S. Army from 1942-46.

Coach Stewart taught math and was the department chairman. His wife, Ruby had one son, Keith.