Complete Story

Bob Davis - 1975
Tecumseh High School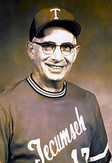 ROBERT DAVIS
Born in Greenfield, Ohio in 1925, the son of Helen and Gerald Davis.
Graduated from Greenfield McClain High School in 1943, where he earned ten varsity letters in football, basketball, and baseball. He played on two undefeated football teams, two district champion basketball teams, one state semi-finalist and two state finalist baseball teams, and was honorable mention All-Ohio in basketball.
Upon graduation from Miami University in 1948, where he played baseball for two years, Davis was drafted by the Yankees and spent two years in professional baseball.
His coaching experience includes baseball, football, and basketball at five high schools: Flat Rock in North Carolina, and in Ohio, Bainbridge, Kenton, Celina, and Tecumseh. During his early years of coaching, he was a basketball referee.
Davis came to Tecumseh in 1957 as an assistant football coach, from 1961-1975 was head baseball coach, and from 1962-1975 was athletic director.
During the summers, Tecumseh teams played in the Springfield Lawrence Haddix League as well as the Dayton Class B League.
His Tecumseh baseball teams won ten league championships and the 1970 team also won the district, was regional runner-up, and finished the season 30-6 and ranked 5th in Ohio.
Davis coached in three Ohio East-West All Star games. Three of his players from Celina and nine from Tecumseh were selected for All-Ohio honors. The Tecumseh players include John Hartke, Bob Bauders, Marty Sharp, Rick Rogers, Terry Wenger, Dan Owen, Woody Davis, Larry Owen, and Mark Blumenschein. Rick Rogers, Larry Owen, and Mark Blumenschein played professional baseball.
Bob was a charter member of the Ohio High School Baseball Coaches Association, of which he was president in 1963 and 1964, and was inducted into their Hall of Fame in 1975. He is also a member of the Miami Valley Baseball Coaches Hall of Fame, as well as the Tecumseh Athletic Hall of Fame. In 1969 the National High School Athletic Coaches Association named him the Midwest Baseball Coach of the Year, making him one of the top nine coaches in the country.
After retiring from high school teaching in 1977, Davis coached baseball at Wittenberg University for two years.
Bob and his wife, Copie, have been married 65 years and now live in North Canton, Ohio.