Complete Story

Bob Addis - 1975
Euclid High School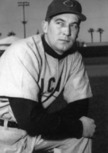 Bob graduated from Barberton High School and Kent State University. He served in World War II in the Marines. He played professional baseball beginning in 1950-51 with the Boston Braves, 1952-53 Chicago Cubs and 1953 with the Pittsburgh Pirates.

Bob began teaching at Shaker Hts. in 1958 and then taught 34 years at Euclid H.S. He was the Coordinator of Athletics for 25 years. He coached for 17 years which included 12 league championships, 1 state semi-finalist in 1960 and 1 state championship in 1963. He coached 18 all-state players and had a career coaching record of 402-114.

Bob is a hall of fame member of Barberton High School, Euclid High School, Greater Akron Baseball, Summit County, State Athletic Directors and Ohio H.S. Baseball Coaches Association.

Bob retired in 1993, is a member of the Euclid Rotary Club and enjoys golfing.