Complete Story

Jim Humpal - 1977
Charles F. Brush High School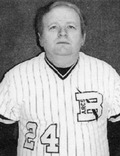 Jim Humpal started his coaching career at Greenview Junior High school in 1960 where his teams compiled a 28-2 record. He started the JV program at Charles F. Brush High School in 1963, and became the Varsity baseball coach in 1964. His varsity teams compiled 500 plus wins during 28 years.

The teams won many sectional, district and regional titles as well as several league championships in both the Lake Erie League and the Greater Cleveland Conference. Several of those players went on to play in the majors.

Jim is Past President of both the Greater Cleveland High School baseball coaches association and the OHSBCA. He was inducted into the OHSBCA in 1977. Recently, he was inducted into the Charles F. Brush HS Hall of Fame. Junior High, high school, sandlots and international baseball have been a very important part of Jim's coaching career.

28 years Head Coach at C.F. Brush High School
500+ wins
6 league championships
16 Sectional Championships
5 District Championships
3 Regional Championships
2 Final Four appearrances
1 State Runner-up
19 average wins per season
7 players to pro baseball
3 played MLB
Inducted into the OHSBCA 1977
Member of the C.F. Brush High School Hall of Fame
selected as the 1st high school baseball coach to participate at the National Sports Festival in 1980
Retired from teaching in 1992

After retirement from teaching, Jim has been instructing at baseball schools, currently Triple Play Baseball Academy.