Complete Story

Don Black - 1986
Parkway High School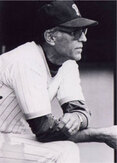 Don Black received his B.S. degree from Ohio Northern University in 1953 and his M.A. degree from Indiana University in 1966. His first teaching and coaching positions were at Willshire High in 1953.In 1963, Willshire was consolidated into Parkway School district and Don was hired as the school's first baseball coach.

Don's baseball coaching career spanned 33 years; 28 years as a head baseball coach. During Don's tenure his teams won 11 Sectional Championships,3 District Runnerups, 6 District Championships, and was Regional Runnerup twice. In league play,Don's team captured 15 championships;11 of them outright.

Don's coaching record is an outstanding 395 wins-208 losses.He was a 19 year member of the OHSBCA,coached in the 1982 All Ohio Series, and was league coach of the year 5 times.

Don was born on October 27,1931 and passed away on November 19,1985.He is survived by his wife,Gloria,and three sons, Rick,Scott, and Monte.

It is with great pleasure that we induct Don Black,a truly outstanding humanitarian, into the OHSBCA Hall of Fame.