Complete Story

Jim Jordan - 1986
Marietta High School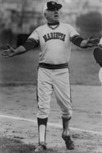 Jim Jordan is a native of Marblehead, Massachusetts, where he played baseball in high school. After high school he was in the Navy for three years during WWII. After WWII he signed with the Boston Read Sox in 1947 and was assigned to Lynn in the New England League. An arm injury from the service cut his career short and he returned to school to become a teacher and coach.

Jim received an AB degree from Marietta College in 1952 where he played varsity baseball for four years at first base. He attended graduate school at Boston College and Purdue University.

In 1954, Jim accepted a position at Marietta High School where he taught American Government and American History and was Assistant Coach in 3 sports. In 1957 he became Head Baseball Coach and held that position for 29 years until his retirement in 1985.

His baseball career at Marietta includes seven Sectional Championships, three District Titles, State's final four in 1979, Central Ohio League winner five times, and 409 victories.

Jim has been married over 30 years. He and his wife, Jo Anne have a son, Tom and a daughter, Jody and 3 grandchildren.