Complete Story

Richard Kandik - 1992
Oregon Clay High School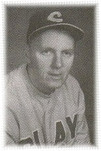 Richard Kandik has been a baseball coach for 27 years at Oregon Clay High School. For three years he was a volunteer coach and for or seven years he was the Junior 'Varsity coach under hall of fame coach and past president (1957) Harold Potter. For 17 years Coach Kandik was the head coach at Oregon Clay High School. Oregon Clay has won 341 games with 127 losses. During his 17 years, Oregon Clay has won 6 League Championships, 13 Sectional Titles, 1 Regional Title and 1 State Championship (1979).

Coach Kandik from Toledo Libbey High School in 1958 and played in the East-West Classic that year, then played at Morehead State University where he graduated in 1962 with a B.S. degree. He started teaching Biology at Oregon Clay Senior High in 1962.

Coach Kandik has been a member of the coaches association for 24 years and the district representative since 1979. He coached the All-Star series in 1979 and coached 9 players who have played in the series. Four of his players have been drafted by the pros.