Complete Story

Mike Cameron - 1993
Moeller High School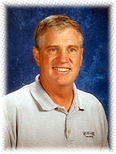 The 1993 season will be Mike Cameron's 26th year (25 as head coach) at Moeller High School. His overall record stands at 462-202. His Crusader teams have captured two state titles (1972, 1989), one state poll championship (1990), two regional and three crowns. In addition five times his teams have been named Cincinnati city poll champions and 15 times have captured the league crown.

Eighteen of his players have signed pro contracts. Five have played in the major leagues; Buddy Bell (Texas), Len Matuszek (Los Angles), Bill Long (White Sox), Barry Larkin (Cincinnati) and Ken Griffey, Jr. (Seattle). Over sixty of his players have gone on to play college baseball.

Mike is a graduate of Purcell High School and the University of Cincinnati, Moeller is the only school he has taught and coached at beginning in 1967. He teaches Health and Physical Education and for 15 years and coached football. Mike was also in athletic administration for ten years.

Mike's wife, Nancy is the secretary for the Montessori Education program at Xavier University. The Cameron's have been married 26 years and have three children. Karen is a Montessori graduate student at Xavier University. Lynn is a 1992 graduate of Xavier University and is a sales representative for New Creative Enerprises in Cincinnati. Joe is a 1992 Moeller High School graduate and is a secondary education major at Xavier University.