Complete Story

James Gerfen - 1994
Ridgedale High School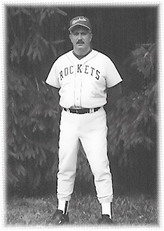 James Gerfen taught briefly at River Valley High School in 1970 and since has been at Ridgedale High School for the past twenty-three years. He has taught health, physical education, and psychology and has been the head teacher for the past seven years.

Coach Gerfen has been the Athletic Director since 1978 and coached football for thirteen years as the defensive coordinator, boys basketball from 1972-80, girls varsity basketball for the last four years and is currently in his twenty-third season as varsity baseball coach.

During his twenty-two years of coaching baseball, his teams have won eleven conference championships, been runners-up four times, won fourteen Sectional titles, two District, four District runners-up, two Regional Championships, two State appearances with a State Championship in 1992. His overall record is 378-168, and has won well over 200 summer games. He has been Central District Coach of the Year four times and coached five all Ohioans and many players have gone on to the college ranks.

He and his wife Pat have been married for twenty-five years and have two sons, Scott, twenty-two, who will graduate from O.S.U. in March with a degree in Broadcast Journalism and Brad, twenty-one, who is a junior majoring in Social Psychology at Ohio Weslyan University.