Complete Story

Don Thorp - 1994
Lakewood High School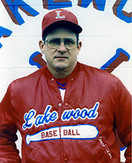 Don Thorp graduated from Miami University in 1968 and began teaching at Lakewood High School that fall, where he has remained as a teacher and coach for the past 26 years.

Coach Thorp spent 5 years coaching football and b asekt ball at the junior high level before becoming Head Baseball Coach in 1973. He also became the boys Head Basketball Coach in 1974. He remained the head coach in both sports for 16 years compiling 200 wins as the Head Baskeball Coach before resigning that post in 1990.

Currently Don has 453 wins and 117 losses as the Head Baseball Coach which include 12 League Championships, 17 Sectional Titles, 7 District Championships, 4 Regional Championships and 1 State Championship.

This past year he also becoame Athletic Director at Lakewood High School.

Don and his wife, Mary Ann, have 3 children. Jerry, a student at Ohio State University, Tara a student at Ohio University and Kira Lee a Sophmore at Lakewood.