Complete Story

Richard "Lefty" Hall - 1995
St. Clairsville High School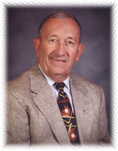 "Lefty" Hall attended Barnesville High School where he lettered in baseball and track. A 1965 graduate of Ohio University, Coach Hall accepted his first teaching and coaching assignments that same year at Powhatan High School. In the spring of 1967 "Lefty" led the Indians to the District finals. The following year Coach Hal was hired at St. Clairsville High School and is currently in his 28th year as head coach of the Red Devils. In addition to his baseball duties "Lefty" served four years on the basketball staff and for the past 22 years has been the golf coach at St. Clairsville.

"Lefty" is the son of Lucille Hall and the late H.O. Hall of Barnesville. Coach Hall and his wife Rita have been married for 26 years and are the proud parents of two children. Rusty, a Barnesville High letterman in golf and baseball, is a 1992 graduate of Ohio State University's Business College. He has recently relocated from the Washington D.C. area to Chicago, and is working as a manager of business consulting for Manuguistics, a computer software company. Rachael, is a junior at Ohio State University majoring in Speech and Hearing Sciences with a minor in Deaf Studies. She has done extensive volunteer work in Columbus area schools and hospitals.

"Lefty" Hall's coaching career has brought him many rewarding experiences. In 1977 he was selected to coach in the All-Ohio Series. Coach Hall served the OHSBCA as a member of the Board of Directors from 1978 through 1980. "Lefty's " overall record is 421 wins and 262 losses. Four trips to the Regionals highlight his tournament achievements, with three teams advancing to the regional finals. Coach Hall's teams have captured 16 league and conference titles. Five former Red Devils have signed professional contracts. In addition, five outstanding seniors have played in the All-Ohio Series. "Lefty's" coaching honors include: Eastern District Coach of the Year, Ohio Valley Athletic Conference Coach of the Year, and twice Division II Eastern District Coach of the Year.