Complete Story

Tim Engleka - 1996
Centerville High School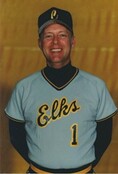 Tim graduated from Wilbur Wright High School in Dayton, Ohio, after which he attended Miami University, graduating in 1964 with a BS in Education. He played baseball in high school and college. He received a Masters Degree from Xavier University.

His teaching and coaching career began at Centerville High School in 1964 and is now in his 31st year of teaching physical education and coaching varsity baseball. During the past thirty years Centerville's record has been 594 wins and 232 losses. There have been ten league championships, and two regional finalists for the Elks. Sixty-four players have gone on to play college baseball.

During his career he has been involved in athletic administration at CHS, a cofounder of the Miami Valley Baseball Coaches Association, director of a summer baseball camp for fourteen years, and director of a winter hitting school for six years. He coached in the All-Ohio Series in 1978 and `989 and has been recognized as Coach of the Year by the MVBCA in 1976, 1989, 1994 and was inducted into the MVBCA Hall of Fame in 1990.

His wife of 27 years, Karen is a teacher and is currently substituting in Miamisburg. Their older son, Lance an All-State athlete in baseball and football, played at Miami University, graduating in 1992. He is married and serving in the Navy, stationed in San Diego. Matthew, their younger son, an All-State athlete in baseball and soccer, is a senior at Ohio University and captain of the 1995 Bobcat baseball team.