Complete Story

Dean Harrah - 1998
Jewitt-Scio High School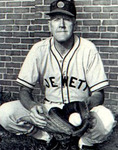 DEAN HARRAH'S baseball career spans over seven decades, beginning with his playing for Lou Mazeroski (father of 1960 World Series hero, Bill Mazeroski) on his independent men's baseball team at age fifteen. While attending Cadiz High School, he lettered in baseball, basketball, and football as well as playing on organized mens' sandlot teams during summers when not working long hours on the family farm.

After graduating from Cadiz High School in 1930, He attended Kent State University where he was a varsity catcher. He and his brother, Clarence, formed one of only two brother batteries in college baseball from 1932-1934. After graduating from Kent in 1934, he began teaching and coaching baseball and basketball in the Harrison County Schools. When he returned home in 1945 after serving in the army in WWII, he was offered a tryout with the New York Giants. When they learned that he was 33, they withdrew their offer. Meanwhile, he continued to play for semi-pro teams in Weirton, Steubenville, and Wheeling. As an all-star, played against barn storming teams such as the Honus Wagner's All-Starts, the Homestead Grays, the House of David and Johnny Blatnik's All-Stars. He continued playing semi-pro ball until the age of 57.

During his forty rear teaching career, he also coached basketball and boys' and girls' softball teams at various schools. Each season he planned his baseball schedule to prepare his players for tournament play by including several AA and AAA schools. During his last 14 years at Jewitt-Scio High School, he compiled a 154-64-3 record while winning 8 sectional titles, 7 district titles, and reaching the regional finals twice. In 1980, he was selected to coach in the Ohio High School Baseball All-Star Game at Columbus.

Dean has been the recipient of many awards for his baseball achievements, most notably being named 1995 Ohio Baseball Hall of Fame "Man of the Year", Ohio Valley "Dapper Dan" Special Achievement Award for his lifetime contribution to baseball, the annual "Dean Harrah Classic" invitational baseball tournament, and a proclamation from the United States Congress, which appeared in the Congressional Record, for "His invaluable contributions to the game of baseball."

His family consists of his wife of 57 years, Treva, who taught for 35 years; a daughter, Carolee Marke, a teacher (now deceased); a son, Charles, a Registered Sanitarian; and a grandson, Robert Marke, who is an attorney in Canton, Ohio.