Complete Story

David Ewing - 1999
Walnut Ridge High School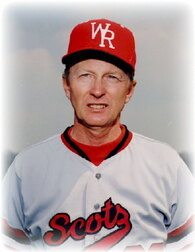 David Ewing is a 1957 graduate of Columbus West High School, a 1962 graduate of Otterbein College and received his Master's Degree from Xavier University in 1968. While at Otterbein he lettered as an outfielder on the varsity baseball team. After graduation he taught and coached at Dublin High School for five years before entering the Columbus City School system for the next twenty-five years. He spent the last twelve years of his career as head baseball coach at Walnut Ridge High School in Columbus.

While at Walnut Ridge his team won five City League South division titles and four city championships (1986,'88,'89,'91.) In addition the Scots won four sectional titles. They were district runners-up in 1990 and won the district championship in 1981 before losing in the regional finals. David has over 200 wins as a head coach. He has coached 39 All-City League players, 12 All-District players and five All-Ohioans. He was selected City League "Coach of the Year" four times and has coached in the Central District All-Star game twice. He was inducted in the first class of the Central District Hall Of Fame in 2000.

David was Central District president in 1986 and served on the OHSBCA Board of Directors as District Rep, State Poll Director and Secretary/Treasurer from 1987-2000.

After retiring from Walnut Ridge in 1992, he served as pitching coach at Otterbein College for 17 years and Capital University for 2. He was a speaker at the 1998 & 2005 OHSBCA state clinic and the BCA National Clinic in Knoxville TN in 2000 as well as speaking at various other clinics throughout the state.
During the summers since 2001, David has been an envoy coach for Major League Baseball International. He has traveled to England, Germany, Switzerland and Sweden to help players and coaches learn more about baseball.

David and his wife Pat have been married 45 years. They have a daughter, Beth and two sons, Jeff and Greg and three grandchildren, Ella, Graham & Riley.