Complete Story

Rob Rose - 1999
Whitmer High School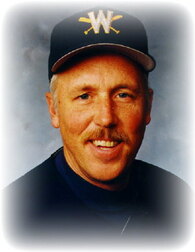 Mr. Rose coached varsity baseball for twenty-one years. Twenty of those were at Whitmer High School in Toledo. In 16 of those seasons his teams compiled at least 20 wins. Rob was selected the Ohio High School Coaches Association Division I Coach of the Year in 1997 while his team was ranked second in the coaches poll.

Rob's lifetime record is 450-137 (.767) with all but 10 of those victories coming at Whitmer. The other varsity experience came at Springfield High School in Akron. The Panthers were Great Lakes League Champions 9 out of the 16 years since they returned to the league in 1983. Rob was named League Coach of the Year in those nine seasons. Over this same stretch the Panthers won 13 Sectional titles. They went onto win 5 District Championships and have been District Runner up twice. Rob was named District Coach of the Year three times. The Panthers went on to win Regional Titles twice to qualify for the State Final Four. Rob coached in the OHSBCA State All Star Game in 1985.

Rob graduated from Wooster High School where he began coaching baseball in the summers while still a student. He graduated from Wittenberg University in 1969 and holds a Masters Degree from the University of Toledo. Rob has coached both football and baseball throughout his 30 year scholastic career. His wife, Pat has been a partner in every coaching experience. Their daughter, Mickey, now finishing her degree at the University of Toledo put in some time as a "bat person" with the Panthers. Their son, Jamie, played for Rob in both football and baseball at Whitmer and is now a student at Philadelphia College of Textiles and Science.

The most rewarding thing about high school coaching for Rob has been seeing kids enjoy the game enough to continue to pursue it after graduation. Fifty of his former players have gone on to play in college with one making it to the Major Leagues. Twelve were named to the All State Team and/or played in the State All-Star game in Columbus. Many have returned to Whitmer to help with the program. Two of the four JV coaches during this span are former Panthers players. People wanting to come back is the ultimate compliment for a high school coach.