Complete Story

Rich Arbinger - 2003
Start High School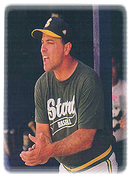 Rich Arbinger is currently in his 27th year of teaching an coaching at Start High School in Toledo - all 27 years have been as a math teacher and the head baseball coach for the West Toledo school. In 26 years of coaching his record is 622-168 which is a .784 winning percentage. His teams have won two state championships, two state runner-up titles, made six final four appearances and won twelve district titles. His teams have been in the USA top 25 for eleven years, nearly every year since 1990 and earned the Easton National Championship in 1994. In 1998 they finished fourth in the nation. Rich was named Midwest Coach of the Year by the Baseball Coaches of America in 1994 and Ohio Coach of the Year in 1994.

Rich graduated from Bowling Green State University in 1973 where he was a member of the baseball team. He helped Bowling Green win its first MAC championship in 1972 as its catcher.

A lifelong resident of Toledo, Rich is married with three children. His wife is the former Debbie Rybak of Parma, OH, a degreed accountant who also graduated form Bowling Green State University. Their oldest son, Jason graduated from and played college baseball at Ohio University. He was a three year starter earning 2nd team All MAC in 1999 and currently works and resides in Marina Del Ray, CA. Their second son, Michael also played baseball at Ohio University, was a four year starter earning 2nd team All American in 2002 and is currently playing in the Pittsburgh Pirates organization. Their third child, Kristen is freshman at Ohio State University and a 2002 OHSBCA scholarship winner. Kristen played varsity softball at Start for four years where she earned 1st team All City three years and league MVP two years.