Complete Story

Dave Klontz - 2003
Heath High School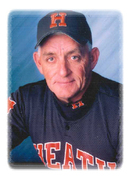 Dave Klontz was the first student to enter Heath High School when it opened in the fall of 1962, graduating from there in 1964. He attended Bethel College in Mishawaka, Indiana, receiving his B. S. degree in Education in 1968. While at Bethel, he earned 4 varsity letters in basketball and baseball, and was twice named baseball MVP, and Bethel College Outstanding Athlete in 1968. In 1977, he received his Masters Degree from Xavier University, in Cincinnati.

Coach Klontz is in this 35th year of teaching and coaching at Heath High School. In addition to his baseball coaching duties, he has been as assistant football coach for the Bulldogs for 33 seasons. The 2003 season will be his 32nd as head baseball coach. During his tenure as head coach, the Bulldogs have compiled a 453-321 record, winning 6 league titles, 8 sectional titles, and 3 Central District championships. The Bulldogs appeared in 3 consecutive regional tournaments, winning titles in 2000 and 2002. In 2001, they reached the regional semifinals after completing an undefeated regular season, finishing with a 25-1 mark. The Bulldogs were named the OHSBCA State Coaches Poll Division III Champions in 2001 and 2002. Then, in 2002, the Heath Bulldogs reached the pinnacle of high school baseball by capturing the OHSAA Division III state championship title, finishing the season with a 30-2 season record. All of the success that Coach Klontz and the Bulldog baseball teams have enjoyed over the season is directly attributable to the loyal and dedicated group of assistant coaches who have selflessly given so much over so many years to build a respected program. Coach Klontz has received 8 league Coach of the Year honors, and has been named Central District Coach of the Year on 6 occasions. He was honored as a regional Coach of the Year in 2001 by the American Baseball Coaches Association, and was named OHSBCA Ohio High School Division III Coach of the Year in 2001 and 2002. He was selected to coach in the OHSBCA Mizuno All-Ohio series in 2000. He is a member of the Mid-State League Athletic Hall of Fame and the Central District Baseball Coaches Hall of Fame. He has been a member of both the OHSBCA and the American Baseball Coaches Association for over 30 years, and has served as an officer in the Central District Baseball Coaches Association and on the Board of the OHSBCA. He has also conducted and taught at numerous baseball camps over the years.

Coach Klontz has been married for 32 years to his best friend Sheila, who is an elementary school teacher in Heath. They have two children, both of whom were All-Ohio athletes at Heath High School. Their daughter, Amanda Derico, resides in Cincinnati with her husband Brian, and son Adam live in Heath.