Complete Story

Ray Sharnsky - 2004
Gilmour Academy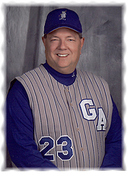 Coach Sharnsky has guided the Gilmour program for a period of 25 years. He has accumulated a total of 412 wins - 202losses. His teams have won 13 league titles, been ranked in the top 20 of Ohio 16 times, and 6 times they have appeared in the "Sweet Sixteen." He has been "Coach of the Year" in the Northeast District, Greater Cleveland Coaches Association, The Plain Dealer, and the New Herald newspapers, and has been Conference "Coach of the Year" in the SEC/MAC 8 baseball conference.

Coach Sharnsky has served on the Ohio district board of directors, the NEO board, and the GCBCA board. He moved through the Chairs in the OHSBCA and was its president in 1998. He has made presentations to numerous youth groups throughout Greater Cleveland and runs camps at Gilmour Academy. He assisted with the Canton Crocodiles in the Professional Class "A" level of the Frontier League. He is the current director of the Elmer Flick summer high school league. Coach Sharnsky was a presenter at the OHSAA youth clinic, and this year will speak at the coaches clinic.

In addition to coaching baseball, he led the only varsity golf team in Ohio ever to win 4 State Championships in a row (1991-1994). He has two bachelors degree for the University of Akron and a masters from John Carroll University. He is a resident of Euclid, Ohio with his two sons Brian and Brent.