Complete Story

Chris Hardman - 2005
Ottawa Hills High School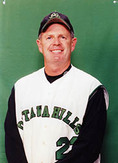 Chris Hardman's baseball background began at a very early age, as he was fortunate to be a part of his fathers' teams at Piqua High School. Baseball continued at Ohio Wesleyan for four years before graduating with a BA in 1973. In 1974, Chris enjoyed a great experience as a graduate assistant in Bowling Green's baseball program, where he received a masters degree in Health and Physical Education.

Coach Hardman began his teaching career at Ottawa Hills High School in the fall of 1974, and has been blessed to have been there ever since. He teaches Health and Physical Education and has been coaching three sports for 30 years. At Ottawa Hills "I have enjoyed working with wonderful student-athletes, supportive parents and administration, and an appreciative community. An educator could not ask for a better situation."

The Ottawa Hills baseball program is proud to be a member of the Toledo Area Athletic Conference, where they have been able to win 13 of the 15 championships. They have had six of the teams chase a state crown all the way to Columbus, winning in 1986 and finishing as a runner-up in 1992, 1996, and 2001. Everyone associated with Ottawa Hills Baseball believes "the best is yet to come!"

While his wife Jeanie and he are passionate about the game of baseball, they enjoy even more, their four girls, Summer, Courtney, Casey and Jackie. "They are the real 'diamonds' in our lives."