Complete Story

Dan Gorbett - 2006
Galion High School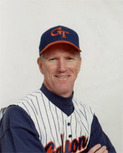 Dan Gorbett began teaching at Colonel Crawford High School in 1978. In 1981 he was named head baseball coach. He served in that capacity until1995 when he became head coach at Galion High School. He has compiled a 379-240 record in 25 years as a head coach. His teams have won 16 Sectional Championships, 2 District titles, District Finalist 6 times, 4 NCC titles and 3 NOL titles. Dan was chosen to coach in the 1987 Mizuno All-Ohio Series and was an assistant for Team Ohio in 2001. Coach Gorbett has twice been named District Coach of the Year. In 2003 Galion's Heise Park was named District 4 Field of the year by the BCA. He has coached football for 25 years at the varsity and junior high level.

In 1989, Dan with fellow Hall of Famers Jim Glauer (Crestline) and Scott Manahan(Bishop Watterson), established the Northwest District 9 Baseball Coaches Association. Gorbett served as President and Vice President of District 9 the first four years. Dan has been the Northwest District Representative on the Board of Directors. Gorbett served as President to the state association in 2001.

Gorbett is a Parma, Ohio native who graduated from Cathedral Latin in 1972. He obtained his Bachelor degree from Baldwin-Wallace in 1976 where he lettered in football. In 1985 he received his MBA from Ashland University and will earn his principal certification from AU in May of 2006. He has been a Board of Education member for Pioneer Vocational School, Mid Ohio ESC and a Sandusky township trustee.

Dan is married to Kathi and has four sons and one daughter. Dan (23) is a medical student at Ohio State, Shane (13), Tyler (10), and Luke (8) are students in the Ontario school system while McKenna (2) is still at home. Dan would like to thank his family, assistants and past and present players for making today possible.