Complete Story

Bill Slinger - 2006
St. Xavier High School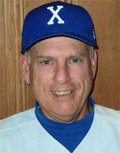 After graduation from the University of Dayton began first teaching and coaching job at Hamilton Badin High School. After six years at Badin H.S., moved to Reading H.S. to coach baseball and basketball for two years. Currently teaches math and coaches golf and baseball at St. Xavier H.S. This is his 31st year at St. Xavier.

While at St. Xavier he has won several GCL League Championships, city champs, district, regional and a State Championship in 2003. Has been GCL coach of the year 6 times and city coach of the year twice.

Career record of 515-304.

Bill and wife Bonnie have been married 36 years and have 5 children; Carrie, Josh, Leah, Eric and Suzanne. The Slinger's this year added their first granddaughter.

"My most rewarding days were those that I spent coaching my own children in basketball and baseball. Bonnie and I also coached them in horse back riding for competition in 4-H programs throughout the state."