Complete Story

Dean Schuler - 2006
Valley High School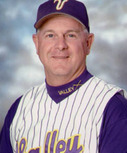 Dean Schuler is a 1971 graduate of Valley High School in Lucasville. He graduated from Malone College in 1976 where he played baseball for four years. While at Malone, he earned four varsity letters in baseball, and was twice named Mr. Hustle. Dean also earned All-Conference and All- District Honors as a senior. Upon finishing his playing career under Coach Bob Starcher, he served as assistant coach for two years at Malone. In 1997, he received his Master's Degree in Sports Medicine from the United States Sports Academy.

Coach Schuler is starting his 25th season and 29th year of coaching and teaching at Valley High School. During his tenure as head coach, the Indians have compiled a 410-193-2 record, winning 2 league titles, 18 sectional titles, and 4 district titles. In his 24 seasons, teams have finished in the final state coaches' poll and 8 teams have won 20 games or more in a season. Five teams were awarded the Sportsmanship Award by the Portsmouth Officials' Chapter. Eleven of Coach Schuler's players have earned All-Ohio Honors.

The success of Coach Schuler and the Valley Baseball program has been a credit to the loyal and dedicated group of players and assistant coaches who have selflessly given so much to the program over the years. Due to the efforts of the players and coaches, Coach Schuler has earned 3 league Coach of the Year honors, 6 Southeastern District Honors, and was twice selected to Coach in the Mizuno All-Ohio Series. He was also selected by the OHSBCA in 2004 as the recipient of the OHSAA Sportsmanship, Ethics, and Integrity Award. Coach Schuler is a member of the Southeastern Baseball Coaches Association Hall of Fame. He has been a member of the Southeastern Coaches Association for 25 years and a past president and member of the OHSBCA and ABCA. He has also conducted and taught at numerous camps and clinics.

Coach Schuler has been married for 10 years to his wife Debbie. They have 3 daughters, Shelly and Brian Williams (assistant coach); Lisa and Billy Esham; and Brandi and Matt Ashkettle. Son Kris is currently finishing his degree at Rio Grande University where he also played baseball. They are also the proud grandparents of Tucker and Breckon Williams and Jakeb and Lucie Ashkettle.