Complete Story

Greg Inselmann - 2007
Patrick Henry High School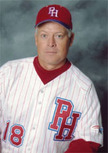 Greg Inselmann began his teaching and coaching career at Defiance High School in 1979. After one year as a voluntary assistant coach at the varsity level, Greg became the Head Baseball Coach in the summer of 1980 and continued in that capacity for 18 years, thru the 1998 season. During this time, Greg's Defiance teams compiled a 303-85 record with 10 Western Buckeye League titles, 10 District appearances, 5 Regional appearances, 1 Regional Championship, and one Division 1 State Championship in 1992. In addition, Greg's summer ACME baseball teams compiled a 301-71 record with 10 state appearances, 1 State Runner-up, and 4 State ACME Championships. Greg returned to his Alma Mater in 2000 and in 7 years has compiled a 153-40 record, with 3 Northwest Ohio Athletic League titles, 4 District appearances, 3 Regional appearances, and 1 Division 3 State appearance in 2002. In 25 years, Greg has a combined 456-125 record. He was voted Division 3 Coach of the Year in 2005 and has coached two Mizuno All-Ohio Series All-Star games.

Greg Inselmann was born and raised near Deshler, Ohio and attended Patrick Henry High School where he was a three-sport athlete, participating in baseball, football and basketball. He continued his education at Marietta College receiving his B.S. degree in Biology in 1979. While at Marietta College, Greg lettered 4 years under legendary coach, Don Schaly. He was selected First Team All-American Designated Hitter in 1978, participated in two Division III World Series, and was elected Co-Captain his senior year. Previously, he has been inducted into the Patrick Henry High School Athletic Hall of Fame, the Defiance High School Athletic Hall of Fame, and the Marietta College Athletic Hall of Fame.

Coach Inselmann and his wife Jayne have been married for 27 years and have two sons. Jayne, a case manager for the Area Office on Aging Passport Program, has been a wonderful coach's wife, actively involved in the program. Jeff is a student at Bowling Green State University and Mike at the University of Toledo. Both were batboys on the 1992 Defiance State Championship team, and both played for their father at Patrick Henry High School. Jeff was a member of the State Team in 2002 and is looking to become a teacher and coach. Mike was a member of the 2004 and 2005 Regional teams, participated in the Mizuno All-Ohio All-Star games, was selected First Team All-State in 2005, and is currently a pitcher with the Toledo Rocket baseball team.