Complete Story

Ron Janey-2014
Logan High School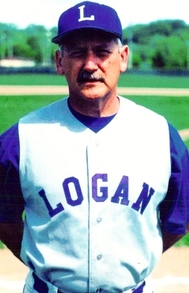 RON JANEY
After graduating from Ohio University in 1973, Ron Janey began his teaching career at North Gallia High School in 1974. While there for two years, he served as an assistant football coach and basketball coach as well as head baseball coach for two seasons. His baseball teams were Southern Valley Athletic Conference champions both years — the only baseball championships in that school's history. He then went to his high school alma mater, Gallia Academy, for four years. There, he was an assistant football coach for all four years and head tennis coach for one year.
In 1980, he then went to his final destination, Logan High School, where he stayed until his retirement in 2013. At LHS, he served as an assistant football coach for 10 years and head baseball coach for 23 years. He also served as Logan's athletic director for his final 23 years. His Logan baseball teams won seven Southeastern Ohio Athletic League championships and, in 2001, made the school's only appearance in a regional tournament. His Chieftains were also ranked in the top 10 of the state coaches poll seven times.
Janey served as a coach for the Mizuno All-Ohio Series in 1983 and 2000 as well as a coach for Team Ohio in Oklahoma in 2000. His overall high school baseball coaching record was 402-193. Ron was also very active in the OHSBCA Association, serving as Southeast District president for many years and on the state board of directors twice. Coach Janey was elected to the Logan High School Athletic Hall of Fame in 1995, the Southeast District Baseball Coaches Hall of Fame in 2000, the Ohio Athletic Directors Hall of Fame in 2002, and the Gallia Academy Athletic Hall of Fame in 2009.
In 1969-70, Ron served his country in Vietnam, where he was a decorated infantry member of the 173rd Airborne Brigade. He was named "Soldier of the Month" in June 1970 while with the 173rd.
Coach Janey has been married for 33 years to Marcie, who is retired from the Logan-Hocking School District as an elementary-school teacher. They are the proud parents of two children: a son, Bo (age 31), is a graduate of the University of Rio Grande and presently serves as a recruiter for the U.S. Army after tours in Iraq and Afghanistan and also served as head baseball coach at Logan for three years; and a daughter, Jackie (29), is presently teaching mathematics at Tri-County Vocational School in Nelsonville, Ohio. She is a graduate of Ohio University and currently resides in Logan with her husband, Jason, and two children, Parry and Pius.