Complete Story

John Dorner-2014
St. Henry High School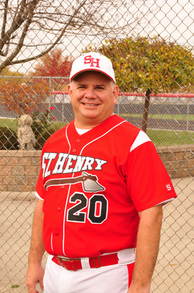 John Dorner - St. Henry High School
John Dorner graduated from Wapakoneta Senior High School in 1982 and went on to earn his Bachelors Degree in Education at Bowling Green State University in 1987. He later earned his Masters Degree in Administration from the University of Dayton in 2003.
Coach Dorner began his coaching career while still in college as an undergrad student at BGSU. He coached the Wapakoneta junior varsity squads in 1984 and 1985. He coached the Findlay junior varsity team while student teaching in 1986. Coach Dorner accepted a teaching and junior varsity coaching position at Houston High School in 1987. The following year, he moved to Celina, where he taught from 1988-2000. John was hired as the Head Baseball Coach at St. Henry High School in 1990, during his tenure as a teacher in Celina. His family moved to St. Henry in 2000, where he has been teaching science and coaching baseball ever since. He has also coached 8 years of varsity golf (girls for 7 years & boys for 1 year) and several years of junior high & freshman basketball. John has also officiated high school basketball for 21 years.
2014 marks Coach Dorner's 25th season at the helm of St. Henry Baseball, where he has amassed a record of 428-209. His teams have won 15 sectional titles and 6 district titles. The Redskins have made 6 trips to the regional tournament, under his leadership, and won 3 state titles in all 3 trips to the final four (1999, 2000, 2003). Dorner's teams have claimed 4 State Poll Championships (1998, 2002, 2003, 2013) and have finished in the Top Ten in the State Coaches Poll a total of 11 times. He has 5 conference championships (MAC) and has reached the twenty victory plateau 8 times (including a 31-2 record in 1999 and a 30-3 record in 2003). He has coached 38 All Ohio Players (27 of which earned First Team Honors). He served as a coach in the 2004 Mizuno All Star Series and has twice been voted as Coach of the Year in the State of Ohio (2002 & 2013). He has been a member of the OHSBCA for 28 years and has been a state poll voter for 20 years. John coached the St. Marys American Legion Post 323 Baseball Team for 6 years (1988-93), finishing with an overall record of 180-92 and earning 5 trips the American Legion State Tournament. He presently serves on the Acme Baseball Congress Board of Directors.
John has been married to his wife, Brenda, for 22 years. Brenda is an administrative secretary for Celina Schools. They have 2 children. Their daughter, Nora, is a freshman at Wright State University and a 2014 recipient of the Hank Miller Memorial OHSBCA Scholarship Award. Their son, Mitchell, is a junior and an honor student at St. Henry High School, where he plays baseball and golf.