Complete Story

Mark Thompson-2013
Elder High Schoo;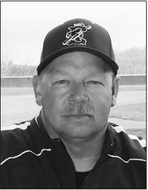 Mark Thompson - Elder H.S.
Mark Thompson is currently in his 24th year as the varsity coach of Elder
High School, and is their all-time winningest coach, without ever having a
losing record. During his tenure as coach of the Panthers his record is 455-
176, including 6 league, 10 district, 5 regional, and state championships
in 1999 and 2005. He has been named GCL coach of the year 6 times,
Cincinnati Enquirer coach of the year 4 times, OHSBCA Div 1 coach of
the year in 2005, and ABCA regional coach of the year in 1999. He is a
10 year former district rep for Southwest Ohio, a 2 time past president
of the Southwestern Ohio Baseball Coaches Association, and twice had
the pleasure of coaching at the All-Ohio Mizuno series. Over 100 of his former players have gone on to play at the collegiate level with four signing professional contracts.
He would also like to acknowledge the support of Elder's administration and the fantastic job his assistant coaches have done over the years, especially longtime assistant Phil Brown, who unfortunately, passed away last year. "Elder would not have nearly the success they've had throughout my career if it weren't for the knowledgeable, dedicated, and hard-working assistant coaches I've had the pleasure to work along side of. I would like to convey my sincere appreciation for everything they've done for me, as well as for Elder baseball, over the years."
Mark graduated from Western Hills High School in 1980 where he played for Hall of Fame coach Ken Selby, and was a Hall of Fame inductee in 2010. Mark is a 1985 graduate of the University of Cincinnati where he was a four-year letterman as a pitcher for the Bearcats. After graduating he was an assistant coach for Western Hills for five years, including a AAA state championship in 1986, before taking the helm at Elder.
Mark has been a Physical Education teacher at Westwood School for the past twenty-eight years where he has also coached basketball and volleyball.
He is the proud father of two fantastic children who are both past OHSBCA scholarship recipients. His daughter Kara is currently a senior at Northern Kentucky University, where she is captain of the dance team. His son Robb is a former player, who played on his 2005 state championship team, and is currently an assistant coach at Elder.