Complete Story

Bob Merritt-2013
Crestwood High School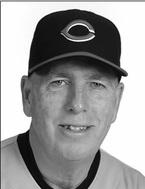 Bob Merritt graduated from Berea High School and went on to earn his
Bachelors Degree and play baseball at Miami University. At Miami his junior
and senior years were highlighted by teams that won the first two MAC Baseball titles in school history. He earned a Masters Degree from Xavier University.

Coach Merritt began his coaching career at Caldwell High School
where he coached football, basketball and baseball. After four years
Bob moved to Crestwood High School where he continued to coach
baseball and football and taught Physical Education. His baseball teams finished with a 406-242 record. Bob also coached ten years of college football at Hiram College. He was Offensive Coordinator of the record setting 1987 team that was ranked 7th in the nation and qualified for
the national playoffs. He is currently beginning his third season as Baldwin Wallace University's Pitching Coach and was an integralpart of the team that set a school record for games won in a season.

Bob served on the State Board of the OHSBCA as a representative from the Northeast District and was chosen as one of the original pollsters when the OHSBCA began to rank teams from around the state in 1986. He was selected Portage Trail Conference Coach of the Year five times, Akron Touchdown Club Coach of the Year two times, and coach of the Mizuno All-Ohio Series twice. Bob was instrumental in the creation of both the Summit-Portage and the Portage County All-Star games. Coach Merritt has had over 50 of his former players move on to play college baseball including former Gatorade and Ohio Player of the Year Chuck Crowder
(Georgia Tech/Colorado Rockies), Dave Oster (General Manager/Vice-president San Diego Padres-A), Adam Crowder (Kent State/All-American) and Brett Merritt (Urbana) currently assistant coach at the University of Toledo.
Bob was selected in the inaugural class of the newly formed NEOBCA Hall of Fame in 2009.
Bob resides in Mantua with his wife, Karen, and daughter Brittany. Karen is a Spanish Professor at The University of Akron. Brittany, a former OHSBCA scholarship winner played softball and graduated from Northwood University in West Palm Beach, Florida and is currently employed by the Cleveland Clinic. Son, Brett, resides in Toledo where
he coaches baseball at the University of Toledo