Complete Story

Brian Harlamert -2022
Coldwater High School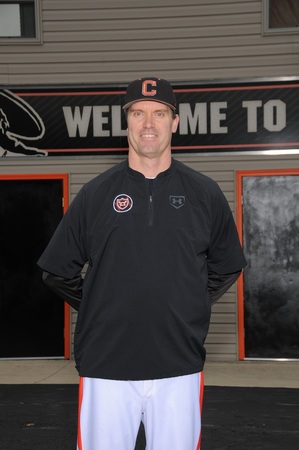 Brian Harlamert , Coldwater High School
Brian Harlamert is a 1990 graduate of Coldwater High School, and a three-sport athlete who played football, basketball and baseball for the Cavaliers. He attended The University of Dayton on a full baseball scholarship. While at UD he set several offensive records on the diamond, which led him to be inducted to the UD Athletic Hall of Fame in 2013. After college he returned to his alma mater to teach and begin his coaching career.
Brian was hired as part of the Coldwater baseball coaching staff in 1995 as the varsity assistant coach. In 1998, the program was turned over to Harlamert as he became the 4th head coach at Coldwater since 1950. In the past 24 seasons, Harlamert has continued the Coldwater success on the diamond; picking up 2 state titles in 2014 and 2019 to give the Cavaliers 7 baseball state titles.
Of course, state championships are the goal, but not the definition of success of a program. In the 24 seasons under Harlamert, the Cavaliers have won 13 Midwest Athletic (MAC) Conference titles, and Harlamert was selected Coach of the Year for those 13 seasons. Coach Harlamert's teams have won 7 regional titles (2000, 2004, 2008, 2009, 2014, 2018, 2019); 2 state runner-up's in 2004 and 2018, and 2 state titles. Harlamert was named OHSBCA Division 3 Coach of the Year in 2010 and 2015. In 2021, the Cavaliers gave Harlamert his 500th career win, all at Coldwater. He currently has a career coaching record of 511-151.
A baseball program is not one person, but many people and factors working together to achieve the same goals. Brian credits much of the success to the many assistant coaches, summer coaches, community, school administration, fans, his family and all the players who have been a part of the program through the years; as a head coach is only as good as the people he surrounds himself with. That especially holds true to the many assistants in the dugout who have helped the Cavaliers over the years, including current coaches, Aaron Harlamert, Cory Klenke and his presenter today, Jason Hemmelgarn. Brian also gives many thanks to Hall of Fame coach and legend, Lou Brunswick, for teaching him the game as a player and continues to influence him and the Coldwater program still today.
Brian and his wife Trisha are the proud parents of 4 children: Aaron 24, Olivia 22, Annelise 18 and Evan 16. Brian has had great support at home from his wife, children, and his extended family in Coldwater, including his mother Johanna and his father, Larry who passed away in 2005. His father, Larry, was a huge part of Brian's playing career and early years of coaching. A motto that Brian has followed for many years is "the WE over ME philosophy". Together, we achieve more, and the program is greater than any one individual. Brian's parents, family, friends and many others have instilled in him these philosophies during his playing days and now in his coaching and teaching careers.