Complete Story

Mike Wiss-2018
Minister High School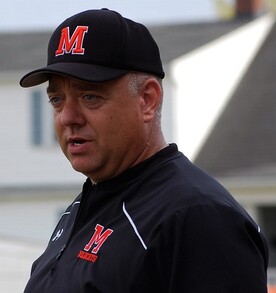 Mike Wiss graduated from Minster High School in 1989 and went on to earn his Bachelor's Degree in Elementary Education at the University of Dayton in 1994. He later earned his Master's Degree in Educational Administration from the University of Dayton in 1998.
Coach Wiss began his coaching career after accepting a teaching position at Minster Schools in 1994. He began teaching 5th/6th Social Studies and after one(1) year moved to 7th/8th Grade Social Studies, the position he still holds today. The first year of teaching proved very busy as he also accepted coaching positions in football, basketball and baseball. His football tenure lasted 22 years at JH/HS levels (1994-2015), basketball for 3 years of freshman boys(1994-96) and 21 years with HS girls (1997-present) as well as 24 years of varsity baseball(1995-present).
The spring of 2018 marks Coach Wiss's 24th season at the helm of Minster Baseball, where he has amassed a record of 409-188. His teams have won 18 sectional titles and 7 district titles (along with 3 runners-up). The Wildcats have made 7 trips to the regional tournament (4 titles, 1 runner-up), under his leadership, and won 3 state titles (2011, '12, '17, along with 1 runner-up in 2003). Wiss's teams have claimed 1 State Poll Championships (2007), 1 runner-up (2013) and have finished in the Top Ten in the State Coaches Poll a total of 5 times. He has 3 conference championships (Midwest Athletic Conference) and has reached the twenty victory plateau 7 times. He has coached 23 All-Ohio Players (11 of which earned First Team Honors) and has coached 19 players who have gone on to play in college. Mike was voted Div. IV Coach of the Year in 2007. He has been a member of the OHSBCA now for 24 years and has been a state poll voter for 10 years. Mike also served as assistant coach for St. Marys American Legion Post 323 for 6 years (1988-93) with record of 180-92 and earning 5 trips the American Legion State Tournament and head coach of Post 323 for 4 years (1994-97) with a record of 124-49 and 2 State Legion tournaments.
Lastly, Coach Wiss attributes much of the program's success to his assistant coaches. The time, dedication and diligence devoted to Minster Baseball by the many gentlemen that choose to help make Minster Baseball important is awesome. Baseball is now, as we all are aware, a year-round commitment in many ways. Having those individuals that are willing to help and that you, as the head coach, are comfortable with empowering them to teach and help lead your program, is huge. As our motto states each year -- "TEAM – With Your Heart" -- it's a blessing to have men that love the game to work with each day.
Mike has been married to his wife, Kelly, for 18 years. Kelly teaches 4th grade Language Arts also at Minster Schools. They have 4 children (Madison (16), Meghan (14), Andrew (10), Alli (3)).