Complete Story

Mike Schumm - 2010
Parkway High SChool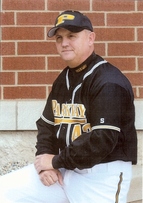 Mike Schumm graduated from Parkway High School in 1973 where he earned post season honors in baseball, basketball, and football. he then attended Marietta College and Ohio Northern University where he earned varsity letters in baseball at both schools and was fortunate to play on OAC Championship teams. In 1977, Coach Schumm graduated with a bachelor's degree in health and physical education from ONU.
Coach Schumm began his teaching and coaching career at Ft. Recovery High School in 1978, where he was a head baseball and assistant basketball coach. After a 3 year stint at the Fort, he took on coaching duties at Mendon-Union High School, where he was a head baseball and head basketball coach for 4 years as well as athletic director. In the fall of 1985, he returned to his alma mater Parkway High School, where he has served as head baseball coach, volunteer assistant baseball coach, head boys and girls golf coach, assistant boys and girls basketball coach, assistant football coach and athletic director.
During his tenure as head baseball coach at Parkway, Coach Schumm has won 70% of his games, including 2 state championships (1087,1991), two regional championships, 2 district championships, 2 district runner-up, 14 sectional titles, 4 Midwest Athletic Championships, and 4 Midwest Athletic Runner-up. He has also received MAC Coach of the Year honors 4 times and has coached in the Ohio All-Star game. In 1987, his team was selected as state poll champions. In the fall of 1988, Coach Schumm was selected to catch the opening pitch at the Reds-Padres game. He has had 28 players go on to play college baseball and 3 have gone on to the professional ranks. Coach Schumm has had the opportunity to coach baseball at varios levels. Pony League, ACME League, and the Grand Lake Mariners of the Great Lakes Collegiate League as well as being a high school coach. His more than 35 years of association with the summer ACME Baseball League earned him Hall of Fame honors this past fall. Coach Schumm has served numerous times on the OHSBCA voting poll and has been a guest speaker at the OHSBCA clinic. He has been a volunteer coach at Parkway for the last 3 years and in his 25 years of being a head baseball coach he has won 352 games. In 1996, he was the recipient of the OHSAA Ethics, Integrity, and Sportsmanship Award,
Coach Schumm has been married to the former Debi Butcher for more than 34 years and they have three children; Aaron (wife Billie Jo), Amanda (husband Matt Triplett), and Galen (wife Elizabeth). The Schumms have one grandchild, Jacoby Navi Triplett.