Complete Story

Jim Mc Bride-2018
Kalida High School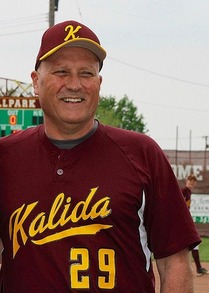 Jim McBride - Kalida High School
Coach Jim McBride is a 1973 graduate of Delta High School where he played football,basketball and baseball earning numerous league honors. His father, James E.McBride, District 8 Basketball Hall of Fame Inductee, was his high school basketball coach and inspiration. Jim is a 1978 graduate of Bowling Green State University and completed his Masters at the University of Dayton in 1983. He served his entire 35 year career at Kalida High School teaching Health, Physical Education, English and History.He was past president of the Kalida Education Association and retired from teaching in 2013.
Jim coached JV Baseball for two years before taking over the varsity position. He compiled 352 wins and 264 losses with the Kalida Wildcat Varsity Baseball program. His teams won ten Putnam County League titles, made thirteen District appearances, were Regional Qualifiers five times and two teams advanced to State tournament play. Jim credits his success to his dedicated, talented assistant coaches and awesome community support.
Jim was awarded Putnam County League Coach of the Year eight times during his career. He was a member of OHSBCA and served as an Poll Voter for four seasons. Coach McBride was proud to have coached numerous players that advanced to the collegiate and professional levels including Chad Ehrnsberger, Ohio State All American and Gene Stechschutle, Ashland University All American, pitcher for the Saint Louis Cardinals and current Ohio Northern University Baseball Coach.
Coach McBride was also a Varsity Assistant Basketball coach for 27 years with Richard Kortokrax, a 1999 OHSBCA Hall of Fame Inductee and the 2002 Naismith National Coach of the Year. Jim gained invaluable experience and mentoring during this time earning OHSBCA recognition for his teams' 349 wins along with a Robert A. Arnzen Award. Jim was Varsity Basketball Coach at Kalida for one season leading his team to District finals before returning to assistant coaching duties. Jim served as Kalida Athletic Director for the last eight years of his career.
Jim has been married for 38 years to his supportive wife, Nancy, who is also a retired teacher. They have two children. Katelyn (Jeremy) Dendinger who is an Intervention Specialist at Ayersville Local Schools and Sean who works for the Whirlpool Corporation in Ottawa, Ohio. Nancy and Jim have been blessed with two granddaughters, Ava and Ellie Dendinger.