Complete Story

Ray Neill-2017
Perkins High School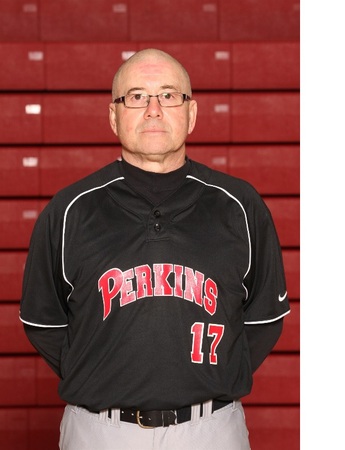 2017 HALL OF FAME INDUCTEE
Ray Neill – Perkins High School
Ray Neill is a 1971 graduate of Margaretta High School in Castalia, Ohio where he played baseball and basketball. He was inducted into the Margaretta Sports Hall of Fame as an individual athlete in 2013 and then again in 2016 as a member of the 1971 MHS final four baseball squad. Ray signed a professional baseball contract with the Cleveland Indians in 1973. He was released by the Indians after the 1974 season. In 1977 he began working at the Ohio Veterans Home in Sandusky, Ohio where he worked 32 wonderful years proudly serving our Armed Service Veterans.
His 1st venture into coaching high school sports would be as a varsity boys assistant basketball coach at his alma mater in 1988. His other early coaching stints would include junior high boys and girls basketball positions at Margaretta and Sandusky. It was in
1995 he became the JV baseball coach at Perkins HS and then its head baseball coach in 1996. He spent 21 years in that position before stepping down after the 2016 season.
The Perkins Pirates won 15 Conference, 17 Sectional, 8 District and 2 Regional Championships under Coach Neill. The 2007 and 2014 teams were final four participants and the 2009 (26-1) team was state poll champs. The Pirates won 20 or more games 13 times during his tenure winning 27 games 3 times (06, 09, 14). His overall record as the head baseball coach at Perkins HS was 434-144 (75%). Coach Neill thanks all his outstanding, passionate and loyal assistant baseball coaches 00001

Ray Neill has also been the head varsity girls basketball coach at Perkins HS for the past 12 years. The Lady Pirates have won 3 Conference, 6 Sectional, 3 District and 1 Regional Championship during this time. The 2007 team was a final four participant and the 2008 (24-2) team was state poll champs. His overall B-Ball record at Perkins is 208-73 (74%). Coach Neill also has a long history of coaching summer baseball in the Sandusky area. He was the player-coach of the Semi Pro Sandusky Soldiers baseball team from 1975 thru 1986. They won the National Baseball Congress Ohio State Championships in 1976, 1979 and 1981. He also coached the Sandusky American Legion Post 83 baseball program from 1996 thru 2011. Post 83 made numerous state legion appearances and won back to back state championships in 2008 and 2009.

Ray Neill has been married to his wife Debbie for 37 years. She is the best teammate he has ever had. They have 3 children: Krista (Brian) Heck, Jaysond Neill and Jenna (Bradley) Brown. All 3 children played multiple high school sports. Krista and Jenna played collegiate volleyball and Jay a 2001 All Ohio baseball player played college baseball. Ray and Debbie have 3 grandchildren: Raegan Heck, Hunter Heck and Jackson Heck who are Coach Neill's best friends!