Complete Story

Glen Morse-2016
New London High School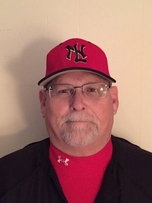 Glen Morse retired from teaching and coaching at New London High School, in June 2013, where he taught and coached for 25 years. During that time, he taught Occupational Work Experience, Physical Education (K-12), Health, and served as the Technology Coordinator for 6 Years. Prior to teaching at New London, Glen taught in the Sheffield/Sheffield Lake school district, the New Lexington school district, and for the Ohio Department of Youth Services. Coach Morse is a graduate of Mt. Vernon High School (1973), Ohio Wesleyan University (1978), and Ashland University (2003). He earned a Bachelor of Science Degree in Physical Education at OWU and a Masters Degrees from in Curriculum and Instruction at AU.
Coach Morse, is returning to baseball this year as an assistant at Ashland High School, has coached high school baseball for 25 years. Glen spent one year as a Varsity Head Coach at Brookside High School, 2 years as a JV coach at Brookside High School, and 22 years at New London High School as the Varsity Head Coach. Coach Morse also was the Head Baseball Coach at Heidelberg College for one year and was an assistant coach at Kenyon College. Glen also coached football for 23 years, 15 in high school and 8 at the college level. He was Head Varsity Coach at New London High School for 4 years.
His varsity baseball teams have a combined record of 405 wins and 156 losses, a .722 winning percentage. At New London his teams had an overall record of 392 wins and 146 losses, a .729 winning percentage. They also had 242 wins and 70 losses, a .776 winning percentage, in the Firelands Conference. During his tenure the New London baseball team has won 11 conference championships, finished second 6 times, 7 Sectional titles, 2 District. The 2006 New London team finished the 2006 season ranked #1 in Division 3. He had 7 players selected for 1st team All-Ohio while many others have received state recognition. Glen was selected Division 4 OHSBCA Coach of the year in 2004 and Division 3 OHSBCA Coach of the year in 2006. Glen has been Firelands Conference Coach of the Year 6 times, and District 9 BCA Coach of the Year 3 times. Glen has also had the honor of coaching in the Mizuno Senior All-Star series four times. Glen feels that he was very lucky to have had so many great assistant coaches over the years that have made a huge impact on New London High School baseball.
Glen has been married to his wife Brenda for 35 years. Brenda is a Pre-K intervention specialist at North Point Educational Service Center. Glen and Brenda have a daughter: Carrie, a graduate of New London High School (2008) and The University of the Cumberlands (2012), lives in Wheeling and works for Oglebay Resort.