Complete Story

John Cannizzaro-2016
Newark Catholic High School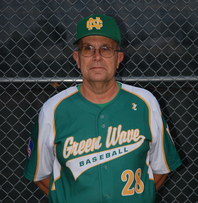 John Cannizzaro is a 1970 graduate of Newark Catholic High School. He attended the Ohio State University for two years, before serving two years in the United States Army as a Military Policeman in Frankfurt, West Germany.
In 2016 Coach Cannizzaro begins his 30th year coaching high school baseball. He was the Head Baseball Coach at Newark Catholic from 1985-92. He was a varsity assistant coach at Pickerington High School from 1993-97, and varsity assistant coach at Hebron Lakewood High School from 2000-2003. Cannizzaro returned as Head Coach at Newark Catholic in 2004 to the present.
As head coach at Newark Catholic for 20 years his overall record is 446-177 for a winning percentage of .716. Cannizzaro's Green Wave have won 7 league championships, 15 Central District championships, 12 Regional titles, had four State Final Runnerup teams, and won six state titles. In 20 years of post-season play Cannizzaro's teams have compiled a 117-14 record for a .893 PCT. His 12 State Tourney appearances at Newark Catholic, with 22 games, 16 wins, and six state championships are all Ohio state records.
A large number of Green Wave graduates who played for Cannizzaro played in college, including six to Division I schools. Three signed and played for professional organizations. Also several assistant coaches have worked for John. One assistant, Danny Mummey, has played or coached for seven of Newark Catholic's eight overall state baseball champions.
Cannizzaro was named to the Central District Baseball Coaches Hall of Fame in 2007. He has been a member of the OHSBCA for 31 years. Newark Catholic won the 1986 OHSBCA Class A poll title. In addition to seven league and 10 District Coach of Year awards, Cannizzaro received Coach of Year honors from the National Federation Interscholastic Coaches Association in 1989, from the Newark Advocate in 2009 and 2013, and for the Columbus Dispatch All-Metro Team in 2013.
John is currently employed by Heritage Sportswear in Hebron. He is a former sports reporter for the Newark Advocate and Lancaster Eagle-Gazette. He also coached summer baseball and served administrative positions in the Licking County area for 27 years.
Cannizzaro is single and has a very supportive family to include two sisters, one brother and their families. Nephew Tony, a 2004 NC graduate and former player for Coach John, is a 3-time Ohio High School Baseball State Champion.