Complete Story

Kyle Reiser-2015
Elmwood High School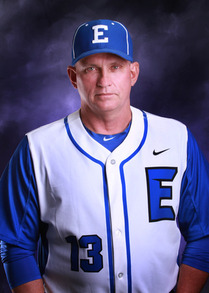 2015 HALL OF FAME INDUCTEE
Kyle Reiser – Elmwood High School
Kyle Reiser graduated from Bowling Green State University in 1983 with a degree in Business Education and received his Master's Degree in Classroom Technology from Bowling Green State University in 2006. After graduating he taught High School Business and was the Varsity Baseball coach three years at Elmwood High School. Kyle then served as Assistant Baseball Coach at Ball State University for two years and Assistant Baseball Coach at Bowling Green State University for one year.
Coach Reiser returned to Elmwood High School as the Middle School Technology teacher and Head Varsity Baseball Coach for the 1991 season. He continues to serve in that capacity, now entering his 30th year of coaching high school baseball: 1 year as JV coach at Eastwood High School, 1 year as Varsity Head Coach at Tinora High School, and 28 years at Elmwood High School as the Varsity Head Coach. During that time his varsity teams have compiled a 518-216 record, an amazing winning percentage of .706. His teams have won 16 conference championships, 20 Sectional titles, 8 District titles, 2 Regional Runner-up titles, and a State Runner-up finish in 2007. Kyle has been fortunate to have had many outstanding assistant coaches during his tenure, many of them former players, and is proud of the fact that some have gone on to be head coaches at other schools. He has had the privilege of coaching some outstanding baseball players with 10 former college Division I student-athletes and 15 in Division II and III.
Kyle is married to Kelli who also works for Elmwood Schools in the Treasurer's Office. They have four daughters: Kylie, a graduate of BGSU who works for Dana Corporation; Katie, a graduate of Kent State University who works for Goodyear; Kori, currently a student-athlete in the track program at BGSU studying Education; and Kristi, a senior at Elmwood where she is a cheerleader and all-conference softball player.