Complete Story

Auggie Bossu - 1976
Benedictine High School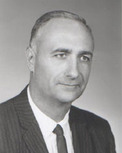 Augie Bossu is one of the few men to coach in seven decades (1940s, 1950s, 1960s, 1970s, 1980s, 1990s, 2000s). His lifetime baseball record is 681-300. Benedictine won seven City Championship crowns and 13 East Senate baseball titles. His totals include 23 Sectional Titles and eleven District Championships. His teams earned five trips to the State Final Four.

Augie is a member of the Ohio High School Football Coaches Hall of Fame, National High School Sports Hall of Fame in Kansas City, and the Benedictine Athletic Hall of Fame.

A 1939 graduate of the University of Notre Dame, Bossu played guard for the Fighting Irish under coach Elmer Layden. During World War II, he served in the Army Signal Corps and left the service with the rank of Major. He returned to school and received a Masters degree in Physical Education from Stanford University.

Augie has been married to his wife Florence for 57 years and they have eight children: Jean, Mary Lou, Frank, Virginia, Steve, Cecelia, Theresa, Angela. All eight children have college degrees, seven have Masters degrees and one has a Doctorate degree.His sons, Frank and Steve, are Benedictine and Notre Dame graduates and played for Augie.

Today, Bossu continues to be active in his "retirement". At the age of 87 he serves as the coach of the Benedictine Freshman football team and scouts varsity opponents.