Complete Story

Fred Heinlen - 1976
Shaker Heights High School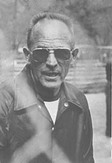 Fred Heinlen graduated from Shaw High School were he played baseball,basketball and football.Fred played baseball and basketball at Springfield College.He served five years in the Service Air Corp.

Fred coached at Shaker heights High School for thirty years were he won 466 games and lost 261. He won two state high school baseball championships.Fred coached basketball for 34 years and was assistant football coach and Athletic Director for 25 years. After retiring from Shaker Heights Fred worked at University School for 19 years were he coached football,basketball and baseball.He has been a clinic instructor for the Cleveland Indians for ten years. He has fifty-five years of coaching experience.

He has been married to his wife Lois for 59 years.They have three children-Doug,
Rodd and Jan.