Complete Story

John Anspach - 1985
Cuyahoga Falls High School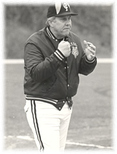 John Anspach is a 1959 graduate of Ohio Northern University where he was a two year letter winner on the baseball team. John's coaching and teaching career also began in 1959 when he was hired as the head baseball coaches in the Defiance City School System. After six years at Defiance, John had a record of 56 wins and 41 losses.

In 1965 John took a job with the Cuyahoga Fall City School System as an assistant football coach. In 1970, after two years as an assistant coach, John became the head baseball coach. From 1970 to 1984, Cuyahoga Falls High School had a record of 323 wins and 129 losses. Included during this period were 3 district championships and a total of 10 teams that won 20 or more games. This with his 6 years at Defiance give John a fine record of 379 wins and 170 losses.

A person who believes very strongly in setting personal and team goals, John still teaches at Cuyahoga Falls High School.

John is married to Carol and they have five children; John, Susie, David, Amy and Mark.