Complete Story

Joe Gilhousen - 1993
GlenOak High School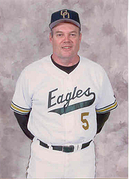 Coach Joe Gilhousen has been the Head Baseball Coach at Oakwood and GlenOak High Schools for 32 seasons. He is a 1966 graduate of Canton Lehman High School and a 1970 graduate of Kent State University, where he earned 3 varsity letters in baseball. He graduated from the University of Akron in 1975 with a Master's Degree in Secondary Education.

Entering the 2005 season, Coach Gilhousen's overall record is 537 wins and 288 losses. During his tenure at Oakwood and GlenOak, his teams have won 16 Federal League Championships, 19 Sectional Championships, 9 District Championships, 3 Regional Championships, and 2 Division I State Championships in 1995 and 1996.

Coach Gilhousen is a Past President (1983) of the Ohio High School Baseball Coaches Association. He coached in the O.H.S.B.C.A. All-Ohio Series in 1982 and in 1990. He was inducted into the Ohio High School Baseball Coaches Hall of Fame in 1993.

In 1995, when the GlenOak Golden Eagles were State Poll Champions, Coach Gilhousen was names Ohio's Division I Baseball Coach of the Year. He has been named Federal League Coach of the Year in 1993, 1994, 1995, 1996, 1997 and 2001. In Addition, he has been honored as the Stark County Baseball Coach of the Year in 1978, 1981, 1986, 1990, 1994, 1996 and 2001. Coach Gilhousen was also inducted into the Stark County Amateur Baseball Hall of Fame in 1994 as well as being named an Outstanding Alumnus of Lehman High School in 2002. Coach Gilhousen and his wife, Carolyn, have two children Alan and Erica.