Complete Story

Richard Termeer - 1995
Assistant Commissioner OHSAA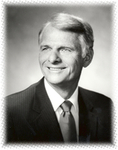 Dick Termeer graduated from Dublin High School in 1951 where he was class Valedictorian and earned ten letters in football, basketball and baseball. He received a Bachelor of Science Degree in Education from Otterbein College in 1955 and a Master of Arts Degree in School Administration from the Ohio State University in 1966.

Prior to becoming Director of Athletics at Worthington High School in 1968, Dick taught history and served as an assistant coach in basketball and football and coached varsity baseball in three Ohio public schools. Coaching baseball from 1956 to 1968 which included eleven varsity seasons his teams won 111 games and lost 85. His Jonathan Alder team won the Class A District Tournament in 1958 and his Worthington team won the Central Buckeye League in 1963.

After serving 21 years in the public schools, the last eight as Worthington's Athletic Director, Dick was selected as an Assistant Commissioner of the Ohio High School Athletic Association, serving his first year under the then commissioner Harold Meyer. During the next nineteen years Dick was responsible for the soccer, wrestling and baseball programs sponsored by the OHSAA.

Dick was the baseball interpreter for the OHSAA for eighteen years and was on the National Federation Baseball Rules Committee from 1989 to 1992. He currently serves as chairman of that committee. Retiring from the Ohio High School Athletic Association on October 27, 1995, Dick lives in Dublin with his wife, Marilyn. They have three children, Rick, Becky, and Bobbie, all graduates of Ohio University, plus one granddaughter, Kinsey.