Complete Story

Bob Costello - 1998
Vandalia Butler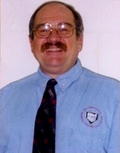 Reared just outside of Pittsburgh, Pennsylvania, Bob known by many as "Cazzie," came to Ohio in 1960 to attend the University of Dayton. After graduation in 1964, he began his teaching and coaching career in the Vandalia City Schools, where he spent 32 years teaching physical education and science and 23 years as head baseball coach.

As Butler High School's Head Coach, "Cazzie" won over 250 games. His teams made 5 Division I District Final appearances, advancing to the Regional Semi-finals once in 1982. He was named "Miami Valley Coach of the Year" in 1980.

Also, during his coaching tenure, Bob became actively involved in the Miami Valley Baseball Coaches' Association, serving over the years, as both its Secretary and President. Last spring the association honored Bob by electing him into its Hall of Fame. In addition, Bob's OHSBCA participation includes being a member of the Board of Directors and holding the office of Secretary Treasurer.

Bob has three daughters, Kirstyn, Courtney and McKenzie.