Complete Story

Fred Meier - 2000
Oak Hills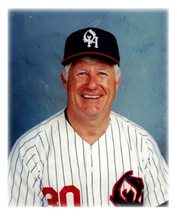 Fred Meier is a 1965 graduate of Western Hills High School In Cincinnati. He graduated from Ohio University in 1969 and received his Masters Degree from Xavier University in 1972. At Western Hills he played for OHSBCA Hall of Fame member Dick Hauck, and participated in the 1965 State All-Star game which is now the Mizuno All-Ohio Series. At OU he played for legendary coach, Bob Wren, who greatly influenced Meier toward a career in coaching. His first coaching job was at Colerain High School as an assistant in baseball, wrestling, and football. In 1972 he became the first head baseball coach at the new Northwest High School. After eight seasons at Northwest, Meier moved to Oak Hills where he coached for fourteen seasons.

In his twenty-two years as head coach, his teams won fourteen Hamilton County League Championships and he accumulated a won-lost record of 357-150. Coach Meier's most rewarding experience was seeing over fifty of his players go on to play college baseball, with two making it to the major leagues. Many of his former players have gone on to coach at the high school level with several becoming head coaches.

Coach Meier has accumulated many Coach of the Year awards, He has conducted many camps and has spoken at numerous clinics. He has served as the Southwest District Representative to the OHSBA for twelve years. He is a Past President of the Cincinnati Baseball Coaches Association.

Fred's wife, Carol, and sons, Brian and Mark, have contributed much to his coaching career. Carol served as scorekeeper and both son played for their dad at Oak Hills.