Complete Story

Dennis Woods - 2005
Lake Catholic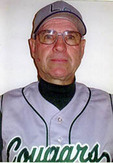 Coach Woods begins his 37th year as a Head Baseball Coach; coaching at various levels and numerous schools. He began his career at Glenville High School 1966-1974, continued at Cuyahoga Community College 1977-1979, Case Western Reserve University 1981-1985, and Lake Catholic High School 2000-present.

His entire teaching career of 32 years was at Glenville High School beginning in 1964 and retiring in 1996. During his teaching career he was a Health & Physical Education Teacher: serving as an Athletic Director for 7 years, Department Chairperson 26 years, Student Council Advisor, Intramural Director, Assistant Wrestling Coach, and Physical Fitness Coach.

His teams have won 567 games while losing 367. 9 league Championships in the City League, 2 North Coast League Championships, 1973 played for the State Championship.

He has been Coach of the Year 4 times in the City League, 2 times North Coast, GCBCA Coach of the year in 1973, AAU Presidents Award 1999, twice coached Mizuno All Star Series, 1973 & 1990: Robert Clemente summer Baseball Award 1996, Who's Who among American Teachers 1996 Class.

A graduate of Miami University and Kent State University Graduate School.

Inducted into the Cleveland South High School Hall of Fame and Inducted into the Glenville High School hall of Fame.

He has three sons: Scott, Brian and Dennis Jr: Two Daughters in Law, Joann & Monica: Two Grandsons, Brandon & Nicholas: Three Granddaughters, Dejeh, Teresa & Dennika.
2016 Update:
49th Season as Head Coach entering 2017
5 Years Head Coach Case Western Reserve University
3 Years Head Coach Cuyahoga Community College
41 Years Head Coach at HS level (Glenville, Cleveland Heights and Lake Catholic)

Past 17 Seasons at Lake Catholic
794 Career Wins at High School/College Level
697 High School Career Wins entering 2017
Member of following Hall of Fame's
OHSBCA Hall of Fame
NEOBCA Hall of Fame
Lake County Captains Hall of Fame
Glenville High School Hall of Fame
Cleveland South High School Hall of Fame