Complete Story

Bruce Stall - 2007
Versailles High School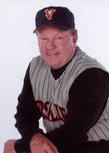 Bruce Stall graduated with the first class at Northmor High School in 1964. He attended Bluffton College and graduated in 1968 with a degree in History and Political Science. He has a graduate degree from Wright State. He started all four years in baseball as a middle infielder/pitcher and was captain his last two years earning All-Conference honors. As a current teacher of thirty-nine years, he started out in History then Physical Education, Health and thirty-four years of Driver Education. This past year he went back to teaching World History. He has also been a department chair for thirty-five years and assistant Athletic Director after retiring from coaching.

As a head coach at Versailles for thirty-one years, he compiled a record of 482-240. This includes 13 conference titles, 7 District Championships, 3 Regional Runner-ups, 3 State appearances with 2 State Runners-up in 1977 and 1994. He was voted into the Miami Valley Coaches Hall of Fame in 1993 and has coached in the Mizuno All-Ohio Series. Bruce also served thirty-four years as a defensive and offensive line coach in football.

All the success is helped by his dedicated assistants over the years. They can share in the award. Also, the community and school staff at Versailles has made working there not seem like work but rather a sharing experience with many dedicated students and parents. The greatest experience of my life is the thirty-seven years I have spent with my wife, Jane. "She's coached me better than I could hope to coach anyone." Our biggest accomplishments are our sons, Matt and Drew. Matt, an OHSBCA Scholarship recipient, lives in Duluth, Minnesota with wife Emily, while working in the paper industry. Our two grandchildren are Eleanor, 6, and Walter, 3. Drew, who played baseball at Dayton, has taught and coached in West Carrollton. Bruce Stall has been truly blessed.