Complete Story

Pat Hendershott - 2007
Wellston High School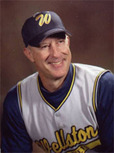 Pat Hendershott, a 1965 graduate of Wellston High School, returned to his Alma Mater in 1970 to teach Algebra and coach. After 2 years as an assistant baseball coach, Hendershott was named head coach at Wellston High School. In his 32 years in that position his teams compiled a record of 530 wins and 308 losses, winning 12 Tri-Valley Conference championships, 13 Sectional titles, 4 District titles and 1 Regional championship. The 1985 team was State runner-up. Thirteen times his teams won 20 or more games and have finished in the top 10 of the coaches poll 7 times including 2nd place finishes in 1988 and 1999. Twenty of his players have gone on to play college and/or pro baseball, including Jeff Montgomery who was the Kansas City Royals closer for 11 years. Hendershott was named TVC Coach of the Year 12 times and Southeast District Division III Coach of the Year three times. He was inducted into the Wellston High School Athletic Hall of Fame in 1997 and the Southeast District Baseball Coaches Hall of Fame in 2005.

Pat has served the Southeast District Baseball Coaches Association as Vice President, President and Representative to the State Coaches Association Board of Directors. He has been a poll voter since its inception and has chaired the Academic All-District Committee for the last 7 years.

In addition to coaching baseball, Hendershott has coached football, basketball and golf at WHS. He coached the Wellston Post 371 American Legion baseball team for 17 years and served on the Wellston City Recreation Board for 12 years where he helped organize and coach youth league programs in baseball, basketball and soccer.

Pat received his bachelor degree from Ohio University in 1969 and his Master degree from The United States Sports Academy in 2002. He retired from teaching and coaching at the end of the 2006 school year. Pat and Connie, his wife for 33 years, have 3 children, Steve, a plant manager at the Meridian Automotive plant in Jackson, Dan, a teacher and coach at Trimble H.S. and Stacy, a consultant with LA Weight Loss in Canton.