Complete Story

Fred Heatherington - 2007
Steubenville High School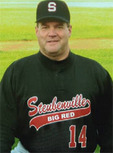 Fred is in his 26th year of coaching (19th in baseball), where he coached 12 years of varsity football under the leadership of the great Reno Saccoccia. He has also been head basketball coach at Big Red and is currently serving as the head baseball coach and Athletic Director.

During his tenure as baseball coach, the Big Red have won 7 OVAC League (record 5 consecutive), 11 Sectional, 9 District and 4 Regional titles with 4 State Final Four appearances and 2 State runners-up. In 1994 and 1998 the Big Red were State Poll Champions.

His current 18 year record of 361 wins and 131 losses (winning % .733) makes him the schools all-time winningest baseball coach.

Coaching awards include OVAC Coach of the Year (1992, 1994, 1998, 2001), East District Coach of the Year (1994, 1998), Division II Coach of the Year (1998), Midwest Regional ABCA Coach of the Year (1998), Wheeling Intel Coach of the Year (1st ever baseball coach to win award in 1994) and coached in the Mizuno Series in 1998.

In 18 years, his program has been able to place 43 players into college for baseball, one player is currently in the Frontier League, and two players were drafted with one currently playing Triple-A and five players coaching in high school.

Fred was born and raised in Steubenville and graduated from Steubenville High School in 1976 where he lettered in basketball and baseball for coaches Charles Watt and Jake Hollowood. He also played four years of American Legion baseball for Coach Ang Vaccaro. In 1980, he obtained his Bachelor degree from Mercer University in Macon, Georgia while on a baseball scholarship and in 2006 he received his Masters Degree in Education from Salem International.

Fred and his wife Cindy are proud parents of two sons Darin (14) and Mason (12).

Special thanks go out to his family, Steubenville City Schools Administration, Assistant coaches, players and everyone who has helped make the Big Red baseball program what it is today.