Complete Story

Donald Jones-2022
Twinsburg High School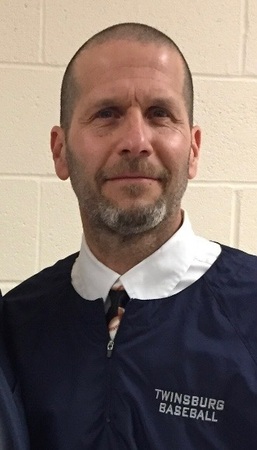 Donald Jones-Twinsburg High School
Donald R. Jones graduated from Brookfield High School in 1981 and Youngstown State University in 1986. Upon graduation, he began his teaching and coaching career at Twinsburg High School and has recently retired after teaching high school social studies for 32 years.
During his 32 years at Twinsburg, Jones coached both football and basketball for over 25 years and was the Head Baseball Coach for 31 years. After retirement from teaching, he coached football at both Crestwood Local Schools and Gilmour Academy, and currently coaches football and basketball for Kent City Schools. Jones continues to coach baseball at Twinsburg High School as assistant coach to his long time former assistant Jeff Luca.
During his tenure as Head Baseball Coach at Twinsburg, his teams went 427-295 in the very competitive CVC, NOC and Suburban leagues. Jones' teams won seven league championships, 16 sectional championships, three district Championships, two Regional Championships, and made two State "Final Four" appearances. In 1990, his team won the OHSBCA A.P. State Poll Championship. Jones led over 50 players to go on and play in college, seven players to go on to play professionally including Major Leaguer Scott Effross, has had 23 All-Ohio Academic Players, three All-Ohio Poll players, and three Mizuno All Ohio players.
Jones was named Coach of the Year seven times, has been inducted into the NEOBCA Hall of Fame, the Greater Akron Baseball Hall of Fame, the Twinsburg Athletic Hall of Fame, and has been recognized by the Greater Cleveland Baseball Coaches Association.
Jones attributes his success to the mentorship of his late father Reese Jones, the support and love of his family, the commitment and dedication of his assistant coaches, and the strong support from the Twinsburg community.
"I would like to thank the Twinsburg Community and the Twinsburg administration for the support over the years. Most importantly I'm grateful to the mentors I've had over the years -- especially my assistant coaches who were committed to the development of each player; this award belongs to all of you more than it does to me! I would also like to thank my wife Jennifer for the years of support and dedication; for allowing me to pursue my passion of mentoring and coaching players to succeed on the field, in the classroom and in life – I would have never been able to do it all without you. I'm also grateful to my family for accepting the long hours and late nights and supporting me throughout my career. Words cannot express my appreciation and my love for you. My daughter Katie, my son-in-law Joe, my son Tyler, and my three grandchildren, Easton (5), Claire (3), and Carter (11 months). I love you all from the bottom of my heart, Thank you!"