Complete Story

Tom Neubert-2020
Columbus St. Francis DeSales High School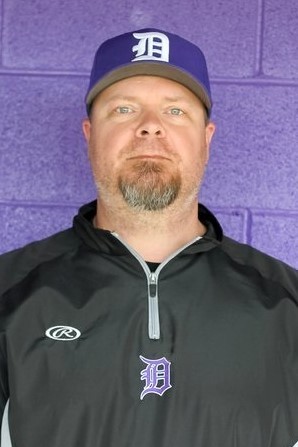 Tom Neubert was born and raised in Lansing, New York where he graduated from Lansing High School in 1992, earning 6 varsity letters in football and baseball. He then continued his academic and athletic career at Cortland State University (NY) where he was a member of the baseball team from 1993-1996. He compiled a 14-1 record on the mound for the Red Dragons while helping his team to the school's first ever World Series appearance (1996). Coach Neubert was named 1st team All-SUNYAC 3 times, and ECAC pitcher of the year in 1995. After earning his Bachelor's degree in Health and Physical Education in 1997, Tom spent three years coaching Division I college baseball at Miami University (1997-1998, 1999) and at Cornell University (1998-1999). While at Miami, Coach Neubert met the love of his life, Jessica.
In 2000, he took a position as the Health and PE teacher at Euclid High School and began his high school coaching career under OHSBCA Hall of Famer, Paul Serra. Coach Neubert got his first baseball head coaching position the following year at Cardington-Lincoln High School where he compiled a 93-61 record from 2002-2007. During his years at Cardington, Coach Neubert also served as an assistant football coach as the defensive coordinator under Wayne Hinkle and Matt Stephens. In 2003 he earned his Master's Degree in Educational Psychology from Miami University.
Coach Neubert joined the St. Francis DeSales High School family in the summer of 2007, teaching health and heading up the baseball program. This upcoming spring will be his 13th season as head coach of the Stallions. During his tenure, Coach Neubert has compiled a record of 231-116 (324-177 overall). He was awarded the Central District Coach of the Year in 2008, NFHS State Coach of the Year and Section 2 Midwest Coach of the Year, BCA State Coach of the Year and BCA Upper Midwest Coach of the Year in 2012, as well as the Columbus Dispatch Metro Coach of the Year in 2016. In 12 seasons under Coach Neubert, the Stallions have won 7 Central Catholic League Championships (2008, 2010, 2011, 2012, 2016, 2018, 2019), 6 Central District Championships (2008, 2009, 2011, 2012, 2016, 2017), 3 Regional Championships (2009, 2011, 2012) and 2 State Championships (2011 and 2012), with an OHSAA tournament record of 41-10 (.804 winning percentage).
Coach Neubert has coached multiple First Team All-Ohio selections over the years including Cardington alum Aaron Landis ('02) and DeSales alums POY Ryan Curl ('08), Thomas Gentile ('09), TJ Alas ('12), Zak DeCamp ('12), Justin Antoncic ('16) and POY Joey Velazquez ('16, '17, '18). 27 of Coach Neubert's former players have gone on to play at the Collegiate level.
Tom has proudly served the OHSBCA and the CDBCA running through the executive board positions in both associations from 2011-2019, serving as the President in 2018. He has been a member of the association since 2000. Coach Neubert continues coaching at St. Francis DeSales High School, where he has also been the Athletic Director since 2010.
Tom and his wife, Jessica Taylor Neubert, will be celebrating their 18th wedding anniversary this Sunday. Jessica has been by Tom's side every step of the way assisting, guiding, advising and providing mental therapy throughout his entire coaching career. They currently live in Westerville, OH with their two children, Taylor (senior at SFD) and Ty (7th grade at St. Paul School).